What is included in the service?
Ovens and hobs
Kitchen Hoods
Cleaning companies use professional detergents and tools, which are much more effective than the normal once, and remove even the most stubborn stains.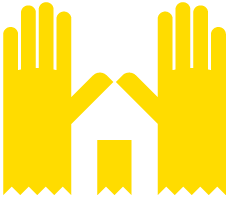 Domestina Standard
Each cleaning company on the platform performs this service according to the Domestina standard . The standard guarantees that no matter which contractor from the platform you choose - they will perform all the activities listed in the description of the service. The Domestina standard ensures that all domestina.bg cleaning companies work in unison with our high criteria.
Top contractors
Rating and comments from clients
Amazing prices
Direct competition between the contractors
Quick solution
Online booking without screening, book even for tomorrow
Testimonials
RATING: | 31/05/2023
Sinobia H.
about
Galina Bekyarova
RATING: | 25/05/2023
David K.
about
Martina D.
RATING: | 26/05/2023
Loic P.
about
Mariya Atanasova
Frequently Asked Question
What is the price?
Companies set their own prices on the Domestic platform. The price may depend on the quality of the detergents they use, as well as the company's history and the skills of the employees. Compare the offers of all companies by clicking the "See Prices" button.
What is included in the oven and hobs cleaning?
The deposits on the hob are cleaned using professional anti-grease detergents (most of them leave an odor of a professional cleaning product for several hours). The oven is cleaned from outside and inside.
What is included in the kitchen hood cleaning?
The deposits on the outside are cleaned. The filters are taken down and cleaned, the filter box is cleaned and then everything is put back together.
What is included in the microwave cleaning?
Food residues and deposits are cleaned internally, the rotating base is removed and cleaned and then mounted back. It is externally cleaned from traces of use and food residue.
What is included in fridge cleaning?
Everything must be removed from the refrigerator before cleaning and all magnets taken down. The fridge is cleaned from outside and inside. The freezer is treated in the same way as the ice is not cleaned, for optimum effect it is advisable to defrost it beforehand.
Feedback
After the job is done, you will be able to comment and evaluate the provider's professionalism. Your rating will affect the overall rating of your company, and your comment will be visible to all future users.
How to select a cleaning company?
Based on multiple criteria, representing professionalism, persistency, expertise and efficiency, Domestina provides Recommended Choice. When you start your order, you'll see the recommended company on the first place of the company list.
If you have any questions, don't hesitate to contact us
business days between 9:00 and 18:00