What is included in the service?
Cleaning all services from limescale and mold
Disinfection of toilet bowl and bidet
Cleaning all hard-to-reach surfaces
Cleaning all tile joints
Cleaning the bathtub or shower cabin
With every shower taken, the bathroom is filled with moisture which seeps into the ceramic and tiles and creates a suitable environment for mold and bacteria to develop. On hard-to-reach places, those quickly accumulate which leads to stains and bad odors. Do not make a compromise, use a professional bathroom cleaning at least once every two to three months.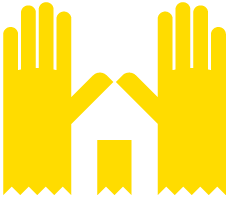 Domestina Standard
Each cleaning company on the platform performs this service according to the Domestina standard . The standard guarantees that no matter which contractor from the platform you choose - they will perform all the activities listed in the description of the service. The Domestina standard ensures that all domestina.bg cleaning companies work in unison with our high criteria.
Top contractors
Rating and comments from clients
Amazing prices
Direct competition between the contractors
Quick solution
Online booking without screening, book even for tomorrow
Testimonials
RATING: | 20/09/2023
Anastasiia D.
about
Ekip Svezhina
RATING: | 13/09/2023
Jonas T.
about
Zornitsa I.
RATING: | 04/09/2023
Latifa A.
about
Galina Bekyarova
Frequently Asked Question
What is the price?
Pricing is based on the number of bathrooms and the number of separate WCs. Bathrooms are divided in size into two categories - under 5 and over 5 m². When you make a booking, you will click how many bathrooms and WCs you would like to be cleaned, and in the next step you will see the final price from the cleaning companies.
How much time does the service take?
The cleaning takes on average between 1 and 2 hours, depending on the number of bathrooms and WCs, as well as how dirty they are. Of course, booking additional services during the visit, such as carpet and upholstery cleaning, can extend the duration of the visit a little.
How to select a cleaning company?
If you don't have the time, it's easiest to trust the platform's recommendation. When you see the list of companies, the first one will be labeled with the "Recommended Choice" badge. Domestina has a wealth of information on cleaning companies and, based on a variety of criteria, determines which one is the best company for a given order. The criteria include both price and first free slot, customer rating, presentation, professionalism and more.
If you have any questions, don't hesitate to contact us
business days between 9:00 and 18:00