What is included in the service?
Външно измиване на:
Стъкло
Еталбонд
Каменна облицовка
Услугата се извършва с дестилирана вода, която не оставя следи при изсъхване. Подходящо за фасади с височина до 15 метра. Не е необходим достъп до вътрешността на сградата.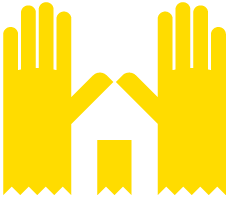 Domestina Standard
Each cleaning company on the platform performs this service according to the Domestina standard . The standard guarantees that no matter which contractor from the platform you choose - they will perform all the activities listed in the description of the service. The Domestina standard ensures that all domestina.bg cleaning companies work in unison with our high criteria.
Top contractors
Rating and comments from clients
Amazing prices
Direct competition between the contractors
Quick solution
Online booking without screening, book even for tomorrow
Testimonials
RATING: | 22/06/2022
Alek A.
about
Ekaterina S.
RATING: | 25/06/2022
Sepideh M.
about
Martina D.
RATING: | 22/06/2022
David K.
about
Neli Cherneva
Frequently Asked Question
How it works?
The service is performed by a team with a special van, equipped with a tank for the water used to wash the windows. It is purified by reverse osmosis so that no white marks or "clouds" remain on the washed glass.
The team is equipped with telescopic carbon rods up to 15 meters high to reach the outside and the windows of higher floors. This allows you to work up to the fourth floor without the need for access from the inside. That's not necessary the client to provide access for the cleaning to be performed.
Deionized and purified water is pumped through a special brush attachment that is placed of extension cord. The windows are sprayed to remove dust and stubborn dirt and stains.
After the team cleans the dust on the windows, they will spray purified water once more to wash away the dirt. Apart from the fact that the technology allows perfect cleaning of the windows, it also creates protective film on the glass and it stays clean longer. If the windows are very dirty, the step will be repeated without affecting the cost of the service.
In what situations is this service suitable?
The service is suitable in a wide variety of situations, like:
Office buildings with glass facades
Business properties with etalbond facades
Commercial properties with large showcase window
Residential properties with a lot of windows
If you have any questions, don't hesitate to contact us
business days between 9:00 and 18:00