What is included in the service?
The cleaning is done by a team of between two and five people with professional equipment and detergents. It includes:
Dust removal;
Washing of windows and window frames (double sided);
Detailed cleaning of sprays from paint, latex, adhesives, cement;
Thorough bathroom cleaning;
Keeping track of fine dust and dirty spots at the most inaccessible places in the room (above doors, window frames, behind siphon pipes, behind toilet seats, under furniture, etc.);
Floor cleaning with the appropriate technology depending on the floor type and type of pollution;
Thorough bathroom cleaning;
Generally, after this service, the property will be in perfect condition to be used.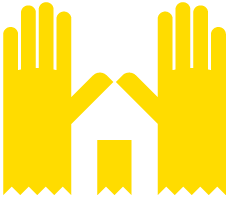 Domestina Standard
Each cleaning company on the platform performs this service according to the Domestina standard . The standard guarantees that no matter which contractor from the platform you choose - they will perform all the activities listed in the description of the service. The Domestina standard ensures that all domestina.bg cleaning companies work in unison with our high criteria.
Top contractors
Rating and comments from clients
Amazing prices
Direct competition between the contractors
Quick solution
Online booking without screening, book even for tomorrow
Testimonials
RATING: | 20/09/2023
Anastasiia D.
about
Ekip Svezhina
RATING: | 13/09/2023
Jonas T.
about
Zornitsa I.
RATING: | 04/09/2023
Latifa A.
about
Galina Bekyarova
Frequently Asked Question
What is the price?
The price depends on the size of the property. Different providers work at different rates because they use a different number of people per team and work with different detergents and machines.
Why book through Domestina?
Domestina gathered the best cleaning companies offering after renovation cleaning in . You can compare all prices in one place, the competitive environment guarantees that you'll get the best possible offer. Don't forget to fill in the feedback form after the visit, it disciplines the providers and allows you to help others like you in the future.
If you have any questions, don't hesitate to contact us
business days between 9:00 and 18:00